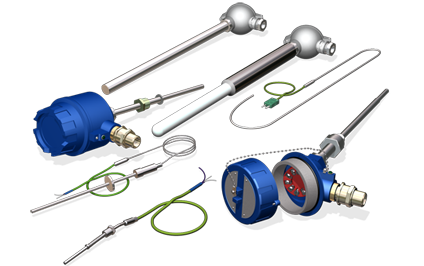 Temperature sensors CTK, CTL, CTN, CTJ, CTM
CABLE THERMOCOUPLES.
PRODUCTION TECHNIQUE. TECHNOLOGICAL ADVANTAGES.
Cable-type thermocouple is a flexible metal tube with one or two pairs of wires, that are parallel to each other. Free space around wires is filled with fine mineral insulation. Thermocouple wires are welded together at working end, forming hot junction inside steel sheath. Working end is plugged with welded steel cap. Free wire ends are connected to terminal head clamps or compensation wire.



Pic. 1. Stock for cable thermocouple
with one or two wire couples
In compliance with International Electrotechnical commission standard 61515 "Mineral-insulated thermocouples and thermocouple cables", cable thermocouple outer diameter can be 0.5-8.0 mm, and rating of wires forming T, J, E, K, or N thermocouple should comply with IEC standard 60584-1. Fine magnesium oxide or aluminium oxide of purity not less than 96% is used as insulation.
| | |
| --- | --- |
| | Pic. 2. Cable-type thermocouple overall view |
Due to high insulation density of cable thermocouple, it can be wound on a cylinder, which radius is equal to five times cable diameter, without thermocouple performance change. For example, 3mm diameter thermocouple can be wound on 30mm diameter pipe. At that there is no electrode shorting to each other or sheath. Reliable insulation is provided by thermocouple cable manufacturing process. Two-channel beads are made from magnesium or aluminium oxide by dry pressing. Thermocouple wires are put inside. The assembly is put into 20 mm diameter tube, then it is drawn through draw die several times along with intermediate annealing in hydrogen or argon medium.
| | |
| --- | --- |
| | |
| one junction (insulated from sheath) | two junctions (insulated from sheath and from each other) |
| | |
| one junction (uninsulated from sheath) | two junctions (uninsulated from sheath and from each other) |
Pic. 3. Hot junction of the cable thermocouple
Hot junction welding is one of the most challenging and important steps of thermocouple production process. In PC TESEY impulse welding is executed by means of laser welding unit and specialized welding plant. Welding defects can appear during welding process inside cable sheath. There are the following thermocouple defects: micro fissures, incomplete fusion, pores, blowholes, wire thinning. Abov mentioned defects result in early junction failure, especially under thermal impact and in case of thermocouple running in thermal cycling mode. To provide hot junction quality control, TESEY specialists invented, patented and introduced into batch production a method and a device, which guarantees defect location during final inspection. Control method is based on Peltier effect. It is a unique method, which is, together with the device, is used for cable thermocouple final inspection only by our company.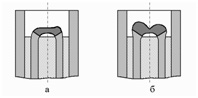 Pic. 4. Possible defects of thermocouple hot junction:
а) no defects; b) poor wire fusion; c) weld zone thinning;
d) micro fissures and pores in weld zone
Use of specialized welding plant resulted in higher weld quality at thermocouple working end due to deeper fusion penetration. This allows to considerably increase thermocouple durability in heat-resistant sheath with outer diameter ≥ 3 mm.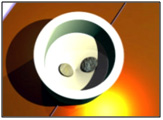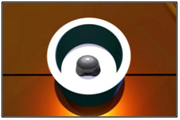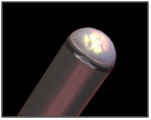 Pic. 5. cable thermocouple welding
Numerous researches showed higher cable thermocouple stability as compared to standard wire thermocouple. Thus, indication variation of L-type cable thermocouple, 4 mm diameter (electrode diameter 0,85 mm) under 425 ±10°С in 10000 hours does not exceed 0,5°С, and in 25000 hours equals to +1,15°С, whereas it comes to 1°С in 10000 hours for wire thermocouple.
K-type thermocouple comparative tests showed that thermo-emf variation of cable thermocouple with 3 mm outer diameter (wire diameter 0.65 mm) under temperature 800°С in 10000 hours equals approximately to 2,5°С, whereas thermo-emf variation of normal TK thermocouple with 3.2 mm diameter wires comes to 3°С, and for thermocouple with 0.7 mm diameter wires it exceeds 200–250 mkV (5-6°С) under the same conditions (pic. 6). Thermo-emf variation of cable thermocouple with high-nickel alloy sheath at 980°С is two times lower than of standard thermocouple at the same temperature in 5000 hours. Indication variation of TK-type wire thermocouple with 3.2 mm diameter wires is up to 11°С in 1000 hours at temperature 1093°С, and at 1200°С – 12,5°С in 200 hours. Increased cable thermocouple stability (pic. 7) can be explained by thermocouple wire oxidation difficulties due to limited oxygen amount inside the cable, and also by additional thermocouple wire protection from woring environment with metal sheath and magnesium oxide.



Pic. 6. KTM-HA (1) and standard HA thermocouple version (2)
thermo-emf variation at
Wire diameter – 0,7 mm

Pic. 7. KTM-HA thermocouple thermo-emf variation
after heating in the air under 800°С.
Values at the picture are cable diameters, mm
Ability to stand high operating pressure is another evident advantage of cable-type thermocouple. CTL 02.01 thermocouples (3 mm diameter, AISI 321 sheath) made by PC TESEY equipped with welded mounting sleeve for sphere-to-cone seal were successfully used in high-pressure reactor at polyolefine complex Plastpolymer (Saint-Petersburg) under pressure 150 MPa, temperature 100–300°С, gas flow rate 9.2 m/s, pressure fluctuations up to 2.5 MPa.
Summarizing all cable thermocouple data given above, principal advantages of cable thermocouples can be emphasized, such as:
higher thermoelectric stability and work resources as compared to wire thermocouples (2-3 times);
cable thermocouple can be bent, mounted in hard-to-reach places, in cable ducts.Thermocouple can be up to several hundred meters long. Thermocouple can be welded, soldered ot simply pressed to the surface for temperature measurement;
low thermal inertia value, thus, cable thermocouple can be used for high-speed process recording;
operational flexibility for various operating conditions, good processibility, low material content;
high working pressure tolerance;
based on cable thermocouples it is possible to produce block-modular thermocouple system in protective sheath, which provides additional thermocouple protection from working environment, and allows quick temperature-sensing element replacement.
At temperature exceeding 1000°С it is recommended to use CTN thermocouple.
In addition to all cable thermocouple advantages, CTN thermocouple has the following merits:
2-5 times increased thermoelectric stability and work resources of CTN thermocouple as compared to CTK thermocouple under comparable working conditions. Wire materials (nichrosil and nisil) have higher thermo-emf stability due to high chrome and silicon concentration in nickel, and also due to magnesium addition to nisil, which transfer wire material oxidation process from internal inter-crystalline to surface oxidation. Oxide protective film preventing from further oxidation is formed at wires; chrome content increase up to 14.2% in nichrosil actually eliminated reversible instability, which is typical for chromel;
N-type thermocouple increased thermoelectric stability and individual thermocouple calibration allow to recommend replacement of S-type platinum thermocouples of 2 accuracy class within the range 1000–1200°С with cheaper CTN-type thermocouples;
high M-type thermocouple sensitivity as compared with S-type platinum-to-platinum/rodium thermocouple.
CTJ thermocouple advantages are high J-type thermocouple sensitivity
(50–65 мкВ/°С) within temperature range 600–750°С, and thermocouple stable operation in oxidizing, reducing and neutral environment.
More detailed information about thermocouple in general and cable thermocouple advantages you can find in articles of LLC PC TESEY specialists on www.tesey.com in Publication section available for registered users.
THERMOCOUPLE PROTECTIVE TUBES
For operation in fast flows of liquid or gas, operation under high pressure (higher than 4 MPa) and temperature, and also operation in corrosive environment, cable thermocouple should be put into protection tube (thermowell), which protects thermocouple from bending and destruction. Protection tubes have standard dimensions.
Dismountable thermocouple consisting of cable thermocouple, used as a replaceable temperature-sensing element, and a protection tube is called a block-modular thermocouple (design modifications 01.05, 01.06, 01.07, 01.08, 01.16, 01.19, 01.20, 01.25 and other). In addition to all advantages of cable thermocouple such thermocouple has the following benefits:
temperature-sensing element can be replaced without protection tube dismantling at site;
due to small dimensions, a large number of temperature-sensing elements can be calibrated at the same time;
further supplies will be cheaper, because it is possible to replace only outer tube or only temperature-sensing element if required.
Protection tube impermeability is one of the most important factors providing its long life cycle Oxygen access restriction inside thermowell prolongs operational life of cable thermocouple, which is a temperature-sensing element.
It is recommended to use AISI 310 steel, CrNi45U and Kanthal APM allows for manufacturing CTN and CTK sensors, that are designed for measurement of temperature exceeding 800°С. Temperature-sensing element can have a sheath made of AISI 310 steel, Inconel 600 or Alloy 740.
Sensors with AISI 310 steel protection tube are recommended for temperature measurement up to 1100°С inclusively. In most cases they offer optimum ratio of cost and operational life.
AISI 310S steel performance specification.
Initial intense scale formation temperature 1150°С.
Maximum AISI 310 steel application temperature in various media:
| | |
| --- | --- |
| Air | 1100°С |
| Oxidizing sulphur-containing atmosphere with low S, Na, V content | 1000°С |
| Reducing sulphur-containing atmosphere with low and high S, Na, V content | 850°С |
| Oxidizing sulphur-containing atmosphere with high S, Na, V content | 600°С |
AISI 310 steel heat resistance:
| | | |
| --- | --- | --- |
| Test conditions | Temperature, °С | Oxidation rate, mm/year |
| Air medium; cooling up to room temperature once a week | 1095 | 0.29 |
| Air medium; blower cooling up to 260°С every 30 min | 1095 | 0.6 |
| Air medium; cooling up to room temperature once a week | 1150 | 0.98 |
Design of thermocouple with AISI 310 steel sheath is covered by utility model patent No. 41190.
01.19, 01.20 and 01.25 sensors are recommended for temperature measurement at temperature higher than 1100°С, and also in corrosive media.
Initial intense scale formation temperature of some steel grades in air environment
| | |
| --- | --- |
| Steel | Scale formation temperature, °С |
| Austenitic steel 12Cr18Ni10Т, 08Cr18Ni10Т | 850 |
| Austenitic steel 10Cr23Ni18, 20Cr23Ni18 | 1050 |
| Ferritic steel 15Cr25Т | 1050 |
| Iron-nickel alloy CrNi45U | 1300 |
| Iron-chrome-aluminium alloy Kanthal APM | 1300 |
Heat-resistance of some doped alloys
| | | | |
| --- | --- | --- | --- |
| Steel or alloy | Test conditions | Temperature, °С | Oxidation rate, mm/year |
| CrNi45U | Still air | 1200 | 0.08 |
| CrNi45U | Still air | 1250 | 0.1 |
| CrNi45U | Still air | 1300 | 0.24 |
| CrNi45U | Clean air flow | 1050 | 0.82 |
| CrNi45U | Air flow containing 1,5 % SO2 | 1050 | 0.96 |
| Kanthal АРМ | Still air | 1100 | 0.015 |
| CrNi78Т | Still air | 1150 | 0.2 |
| 20Cr23Ni18 | Still air | 900 | 0.05 |
| 20Cr23Ni18 | Still air | 1000 | 0.5 |
| 15Х25Т | Still air | 1050 | 0.35 |
| 15Х25Т | Clean air flow | 900 | 0.39 |
| 15Х25Т | Air flow containing 1,5 % SO2 | 900 | 0.54 |
| 15Х25Т | Products of natural gas combustion in 100 hours | 1050 | destruction |
The following existing standards and reference books were used for table compiling:
GOST 5632-72 Heat-resistant steel,and corrosion-resistant, heat-resistant and high-temperature alloys. Grades;
Reference book «Steel and alloy grades», «Mashinostroenie», 2001;
Reference book «Corrosion-resistant heat-resistant high-stength steel and alloys», «Intermet engineering», 2000;
MNL 12/Manual on the use of thermocouples in temperature measurement. Fourth Edition./ASTM manual series;
Metals Handbook, American Society for Metals;
and also publication of Analytical Reference Materials International and Special Metals Corporation.